Phuket International Airport (HKT) is an airport serving the Phuket Province of Thailand. It is located in the north of Phuket Island. There are many scheduled flights and chartered flights from domestics and other countries in Asia, Australia, Europe and North America landing in Phuket.
PHUKET ISLAND MAP
Airport Transfer
Taxi Meter:
A metered taxi stand is located outside of the Phuket Airport main terminal building of the far right as you exit the terminal. It costs around 550-650 baht to Patong (depends on your bargaining skills), and it takes around 35 minutes.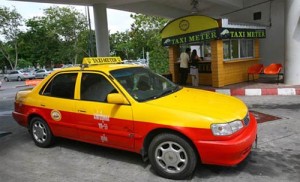 Limousine and Minibus:
Several companies provide limousine and minibus services at Phuket Airport. Service counters are located outside on the arrivals level. Fixed price lists are available for private limousine, private minibus and shared minibus transfer.
Getting Around Phuket
Car Rental Service:
There are numerous car rental services on Phuket. Cars or jeeps can be rented at the airport, in Phuket Town, and at most of the more popular beaches. Be aware that only Commercial First Class Insurance provides full coverage on rental cars (as opposed to limited personal or third party only insurance). Most international car rental agencies will offer this insurance (some only for those with a valid international driver's license) while local companies may or may not. You may wish to request a copy of their insurance policy and ensure that it states "For Commercial Use". Regardless, inspect rental vehicles prior to rental and drive with caution, particularly as traffic in Thailand can be quite confusing, especially the habit of Thai motorcycles drivers to drive on the wrong side of the road.
Motorbike Rental:
For around 150 to 300 baht per day you can hire your own 100-150cc motorbike, which will typically require you to leave your passport as a deposit. Be sure to inspect bikes prior to rental and drive with extreme caution as rental motorbikes are not normally insured and accidents are frequent. Helmets are required by Thai law. Motorcycles can be rented from rental agencies located on Rasada Road or from different operators at various beaches.
Motorcycle taxis:
It costs approximately 20 baht / person / trip to travel via motorbike taxi around Phuket Town.
Songtaew and Tuk-Tuk:
Songtaews are operated along Ranong Road in Phuket Town to various destinations including most beaches. The cost ranges from 20 baht to 25 baht / person / trip. Normally the service is provided from 7.00 a.m. until 5.00 p.m.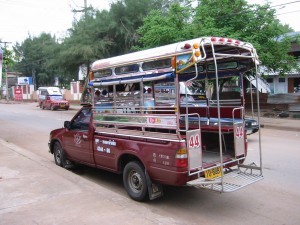 Tuk-Tuks can be chartered for travel between the beaches and Phuket Town or between different beaches; however, rates are negotiable and will cost at least 200 baht to Patong Beach, 230 baht to Karon and Kata Beaches and 300 baht to Nai Han and Kamala Beaches. Within Phuket Town, Tuk-Tuks should cost 20 baht for short distances.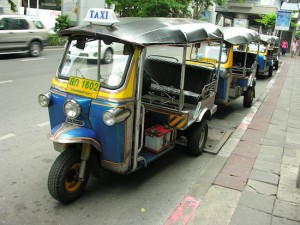 Taxi Meter:
Visitors can get a metered taxi that will take them anywhere on Phuket.