November to next April is the best time to visit in Phuket every year.
Phuket is Thailand's largest island and is widely known as a tourist attraction.With its magnificient white sandy palm-fringed beaches and bays, its crystal blue island-dotted waters, its fantastic underwater scenery, its luxuriant vegetation, its calm and relaxing tropical atmosphere in combination with an enthusiastic shopping and night-life experience, its sincerely hospitable and friendly people, its superb accomodation, its mouth-watering seafood and international and local cuisine, its delightful turn-of-the-century Sino-Portuguese architecture, and its numerous sporting and leisure opportunities, Phuket truly offers a memorable holiday.
Patong Beach
This Beach is the most developed, most vibrant, most visited beach of Phuket that never fails to impress visitors. Located approximately 15 kilometers from the city, the beach has a wide range of accommodations and shopping arcades, and provides magnificent leisure activities and energetic night-time entertainment.It is a picture perfect postcard view of a 3-kilometer long white sandy beach that is perfect for swimming, lazing, and enjoying challenging water sports such as jet skiing, windsurfing snorkeling, sailing, and parasailing.
Phang Nga Bay
A distinctive feature of Phang Nga Bay are the sheer limestone karsts that jut vertically out of the emerald-green water.  James Bond Island and Koh Panyee are just two of the more famous spots in this bay. By far the best means of enjoying the spectacular scenery, with only brief encounters with the tourist crowds at James Bond and Koh Panyee, is to take one of the boat trips from the northern end of Phuket.
A leisurely day trip cruising through the dramatic limestone islands, occasionally stopping to enjoy quiet beaches, is far more rewarding than the standard bus-boat tour.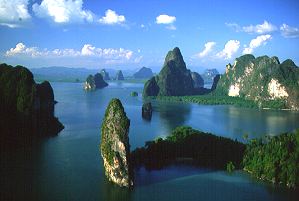 Coral island
Many other places are covered with forest in addition to fishing villages on the island. Coral Island is famous for the rich coral ecosystem and the island is surrounded by all kinds of colorful coral reefs. Coral Island  is  best choice of the locationfor water skiing, snorkeling, surfing and sailing water activities.
Racha Island
Racha island attracts many visitors with high taste with its delicate and beautiful scenery, pure water and sand, relatively independent of the geographical location and luxurious supporting services and snorkeling movement.
Old Phuket Town
Unlike many Thai provincial capitals, Phuket Town fairly shines with personality and nowhere more so than its Old Town. In this historically rich part of town you will find shrines, temples (Buddhist and Chinese), ornate and beautifully preserved 'shophouses', quaint cafés, tiny printing shops, impromptu private and public museums and even a mini ex-red light district.
Phuket Old Town was built on riches reaped from Phuket's tin boom of last century, when the metal was an extremely valuable commodity. In this quarter of the town you will see grandiose Sino-colonial mansions, once occupied by Phuket's tin barons of 100 years' ago. Phuket Old Town is compact enough to stroll around in. The best time to do this is early in the morning or after the day has lost its heat. There are enough restaurants and cafés to provide you with refreshments so don't bother taking a picnic along!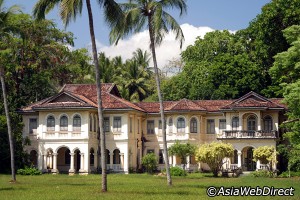 Nam Tok Ton Sai
The scenery is pleasant near the waterfall with beautiful environment. And you may see countless birds, wild boar and monkeys.
Wat Chalong in Phuket
Wats – or Buddhist temples – are among the most important symbols of Thailand, partly because the majority of Thais are Buddhist and partly because they are so beautiful. In Phuket alone, there are 29 Buddhist temples spread around the island.
Wat Chalong has been extending a warm welcome to visitors for over a century. Locals come to pray and Westerners come to learn something about Buddhism. The temple is open from seven in the morning to five in the afternoon.
Phuket Big Buddha
Phuket's Big Buddha is one of the island's most important and revered landmarks. The huge image sits on top of the Nakkerd Hills between Chalong and Kata and at 45 metres high it is easily seen from far away.
The lofty site offers the best 360-degree views of the island (think sweeping vistas of Phuket Town, Kata, Karon beaches, Chalong Bay and more.) Easily reachable via a six-kilometre road leading from Phuket's main artery, it's a must-visit island destination.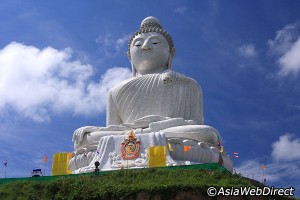 Phi Phi Islands
Phi Phi Island is Thailand's island-superstar. It's been in the movies. It's the topic of conversation for travelers all over Thailand. For some, it's the only reason to touchdown in Phuket. Even with all the hype, it doesn't disappoint. Phi Phi's beauty is a large chunk of the allure. The islands, when approached by boat, rise from the sea like a fortress. Sheer cliffs tower overhead, then give way to beach-fronted jungle. It's love at first sight.
The second part of the why-we-love-this-place story is attitude: few places on the planet are this laid-back. Of the two islands, one is completely free of human inhabitants (Phi Phi Leh), and the other is without roads (Phi Phi Don). There's no schedule, no hustle-and-bustle, no reason to be in a hurry.
Phuket FantaSea
Phuket FantaSea is the island's biggest show. With trapeze artists, a cast of hundreds, performing elephants and other animals and an exotic storyline that blends tradition with fantasy you'll have a wonderful evening out here.
But the extravaganza doesn't stop there as FantaSea also hosts one of the biggest buffets in Asia and is set in a theme park that offers carnival-like games, lots of shopping opportunities, a Palace of the Elephants, a Similan Adventure Centre several other food oulets. It's spectacular, it's extravagent, it's impressive and great entertainment value for all.
Thai Boxing in Phuket
One of the most popular spectator sports in Thailand, and now gaining world renown, is the martial art of Muay Thai. Exciting enough on TV – the furious punches, crushing elbow strikes, lethal kicks and artful feints are even more riveting when seen live.
For more information, please visit Tourism Authority of Thailand